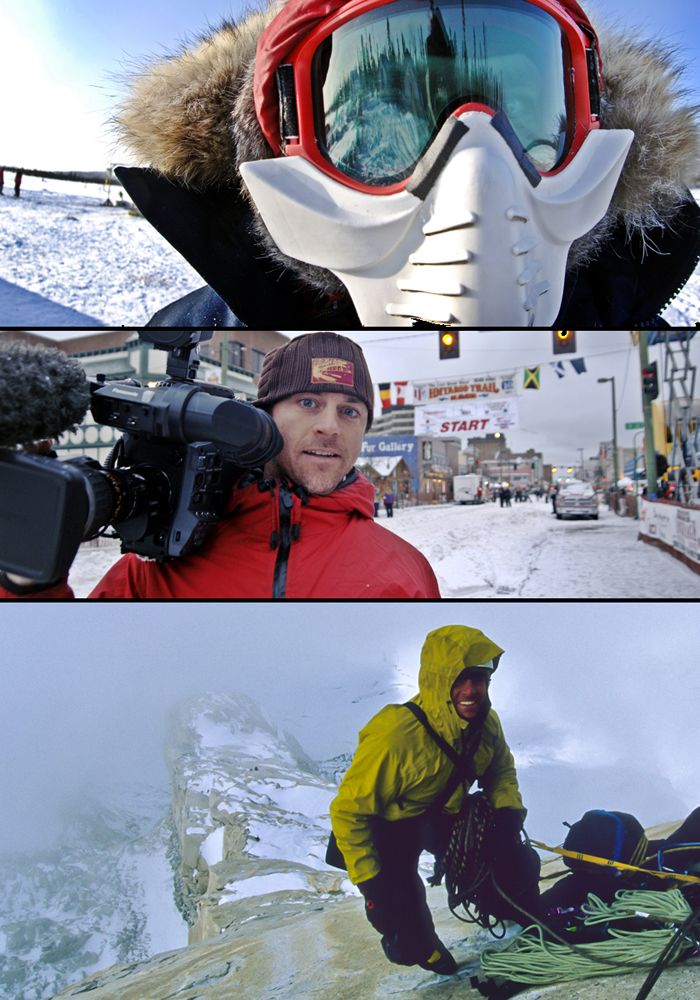 One of the most exciting jobs for filmer / producer Rob Frost has been his assignments covering the "Greatest Race on Earth"-the famous 1,000 mile Iditarod dogsled race from Anchorage to Nome, Alaska. It's a brutal objective: a snowmachine expedition along the trail, documenting the epic journey and the numerous challenges the teams face along the way. It takes 9 days of effort through the Alaska Range, deep into Alaska's interior, and finally up the coast along the Bering Straight through harsh blizzards, extremely cold tempertures (-63 f), dangerous terrain and continual sleep deprivation. This is the type of assignment Rob has built his 15 year filming career around.
Rob grew up in New England with a strong background in alpine ski racing, rock climbing and alpine climbing. Since then he has carved out a reputation for his ability to film in some of the world's most uninhabitable locations such as Alaska's Mount Saint Elias (Red Bull Media House), the north face of Thalay Sagar (22,651 ft) in the Garhwal Himalaya, and the epic "Baja 1000" off-road race in Mexico.
Rob has filmed and produced content for Sender Films, Nat Geo TV, American Adventure Productions, NBC Sports, ESPN2, Discovery Channel, Red Bull Media House, Clif Bar, Mountain Hardware, Animal Planet, CBS's 60 Minutes. Cread Productions, The Sierra Club / Extreme Ice Survey, Mammut Sports Group and more.
In 2012, Rob received an Emmy Award Nomination for his cinematography on CBS's 60 Minutes episode "The Ascent of Alex Honnold". He has also been on the International Jury Committee for the Banff International Mountain Film Festival. and has been an associate producer and filmer for RSN's program "Reel Thrills".
Based out of Boulder, Colorado, Rob continues to make his living working as a filmer / producer and also works as a commercial photographer for Lululemon Athletica and VirtuInvestments.
Over the past two years he has been on assignment living out of his duffle bags more often than not-- working in locations such as Shishapangma Tibet, the Everest region of Nepal, Cerro Kishtwar Kashmir, and the Garhwal Himalaya of northern India. He has also filmed and produced for Sender Films Reel Rock Film Tour in Tazmania, produced commercial content for Clif Bar at the Ironman World Chapionship Triathlon in Kona, Hawaii, and produced commercial content for Clif Bar at the Tour of California with the Garmin Transitions professional bike team.